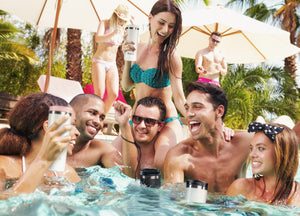 The Buoya Story
Our family loves to spend time together on the water. Whether we're enjoying time on one of the many lakes in our home state of Minnesota, relaxing in a pool, or spending time on the river, we love to be near water. Over the years, we began to notice a common problem - our beverages were always out of reach! While we were in the water, our beverages were on the beach, boat, or side of the pool. We loved having our insulated cup to keep our beverages cold, but we did not like having to hold it the entire time. We realized there had to be a better solution.
How could we enjoy time in the water with a cold beverage within reach? This question sparked brainstorming sessions that continued around our dinner table until the Buoya Floating Tumbler idea was born.
Our research, design, and development were a family affair. We tried numerous tumblers from various manufacturers, but nothing worked like we desired. Many hours, days, and weekends were spent testing a variety of ideas and prototypes.